TAP Network Benefits Buying Programs
As healthcare and other benefits costs continue to rise, it has become crucial for organizations to offer the right benefits plans to attract and retain employees.
Our member companies are eligible to participate in our TAP Network Benefits Buying Plan and other valuable group benefits programs.​
Members have access to a full breadth of benefits expertise and services in partnership with HUB International and Morneau Shepell. 
How has the Benefits Buying Program provided value to our members for almost 20 years?
By pooling premiums, our members gain significant and ongoing cost savings on benefits and wellness offerings for their company.
The estimated aggregate accumulative savings over the past 18 years have exceeded $3M!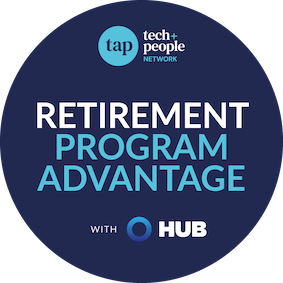 The TAP Network Retirement Program Advantage! 
Separate from our Benefits Buying Plan, our member companies also have access to a full array of HUB retirement services including support for your HR and Executive Management teams, support for your employees at work and support for your employees to and through retirement.  HUB acts as a guide, educator and financial advisor for you and your employees.
For a one-page PDF outlining the TAP Network Retirement Program Advantage with HUB International, click here. 
How does our Benefits Buying Plan work?
HUB International is able to offer our members meaningful, reliable and competitive benefits services ranging from plan benchmarking, cost analysis comparison and support in health and wellness initiatives to expertise in the design, implementation and operation of both traditional plans and flexible benefits plans.
All of our members can obtain group insurance for their employees at a reduced rate, leveraging our aggregate purchasing power as a group! 
Savings for plan participants come from a reduction in the insurers' fixed costs, administration fees, and expenses. 
This program provides a distinctive competitive advantage in the marketplace and has served our members well for many years, delivering the following key benefits:
Reduced group benefits costs.
Increased sustainability of savings.
Maintained autonomy with your plan design.
What about consulting services?
Our members can also access valuable consulting services provided by HUB International, our benefits experts in the tech industry.
Any Employee and Family Assistance Program (EFAP)?
The health and well-being of ourselves and our families is an important part of most everyone's life and employees look to their employer for programs and resources to support their families.
Our members also have access to discounted rates for LifeWorks, the largest Employee and Family Assistance Plan in the world!
LifeWorks is a market-leading total well-being solution that supports the health and well-being of all your people everywhere. This program brings the best user experience and clinical support together to achieve mental, physical, social and financial well-being for 100% of your employees, locally and around the world.