Hello everyone,
It's been a busy second quarter of 2021 at HR Tech Group. First off, we welcomed a record number of new companies. Please join me in extending a warm welcome to these 31 companies that joined! 
Advance Intelligent Systems
SuperNatural Game Studios
Zephyr Sleep Technologies
---
In May we hit another record, with 415 people from across Canada attending our Tech Talent North conference online! We are grateful to the Conference Advisory Committee and to Laurie Murdoch, our Conference Chair, who stole the show with her whimsical back-to-the-office video that we could all relate to! 
SAVE THE DATE: Next year Tech Talent North will be held in-person at the Vancouver Convention Centre on March 2, 2022.  

---
Diversity, Equity and Inclusion programs have been running full steam ahead, with two cohorts of the Inclusive Leader Program, two cohorts of the Inclusive Change Agent Program and three offerings of the Inclusive Organizations: Executive Training Program. Our DE&I Resource HUB continues to grow with more content being added every week. Thank you to Cinesite, Microsoft and HUB International for sharing content recently.
One of the most popular resources on our site right now is the University of Alberta's Indigenous Canada course. This virtual course, which I took last year and highly recommend, can be audited for free.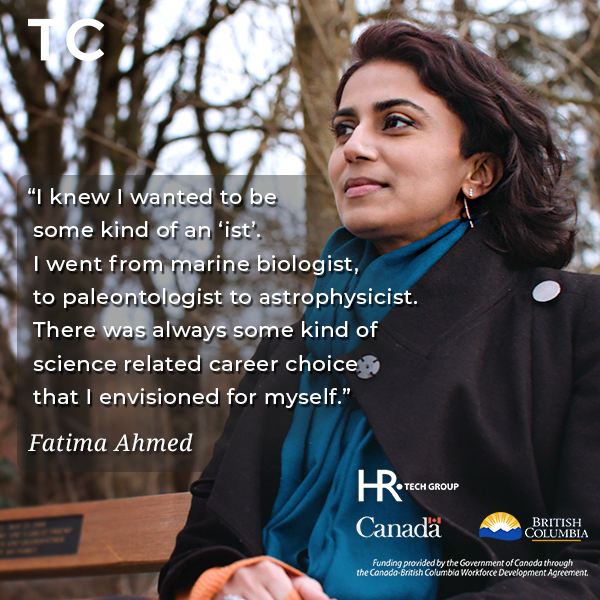 We also released our sixth 'Everyone belongs in Tech' video vignette, this one about Fatima Ahmed, a Research Scientist at Abcellera and thanks to our unstoppable DE&I Tech Project Manager, Kathy Gibson, the BC Ministry of Education has shared these videos with 70,000 certified BC teaching certificate holders.
---
Thank you for all of the valuable feedback you provided through our Member Satisfaction Survey. Our Steering Committee have reviewed the results and we will be providing an update on any new initiatives that will be implemented soon.
Last week at our Annual General Meeting, our members voted in our board of directors: Allison Rutherford, Daniel Berardo, Elizabeth Chan, Laurie Murdoch, Raj Chahal, Robert Lewis, Stephanie Hollingshead, Tammy Carlin and Terry Hibbert. 
A warm welcome to the incoming directors - Laurie, Tammy and Raj! Here's the press release announcing their appointments. 
The BIG NEWS from the AGM is of course the simplified, lower cost membership and salary survey fee structure! With our membership growth over the past couple of years, we've hit a size that is providing us with the financial stability to afford this revenue reduction. We are after all, a non-profit member-based association. Your association. 
---
Indeed, it was a busy quarter. I'm out of breath just writing this! We're proud of how our community continues to support one another through the mentoring program (which wrapped up this quarter), the SIG roundtables, Slack conversations and more. Thank you to everyone for your collaboration and involvement.     
Looking ahead to the second half of 2021, HR Tech Group will continue to provide virtual programs and events to our members. We are also very much looking forward to hosting in-person social events in a few locations later this year as public health specifications allow.
As always, reach out if you have questions, concerns or ideas to help strengthen our community. I can be reached at stephanie@tapnetwork.ca.  
Have a WONDERFUL and SAFE SUMMER everyone and I look forward to seeing many of you in-person later this year!
Stephanie Hollingshead
CEO, HR Tech Group